We have six main initiatives:
Education/Schools, Children's Emergency / ChildLine, Skill Development, Disability Welfare, Women Empowerment and the Outreach-Program.
In India all initiatives are offered in our project "Keshwa Child Welfare Center (KCWC)". In Nepal and Nigeria only the education / school initiative is offered. The Explanation per country briefly describes the respective project and the context in the country. The description for each initiative addresses specific topics of the initiative.
As Navigation aid you can simply click on the corresponding icon or select from the main menu. Click here to get to the countries-overview.
You can also download the detailed descriptions of the overall projects "Keshwa Child Welfare Center" in India, "Winter Schools" in Nepal and "Amuro/Mgbom school in Nigeria onto your computer. To do this, select the appropriate download button.
Education: Inclusive School in India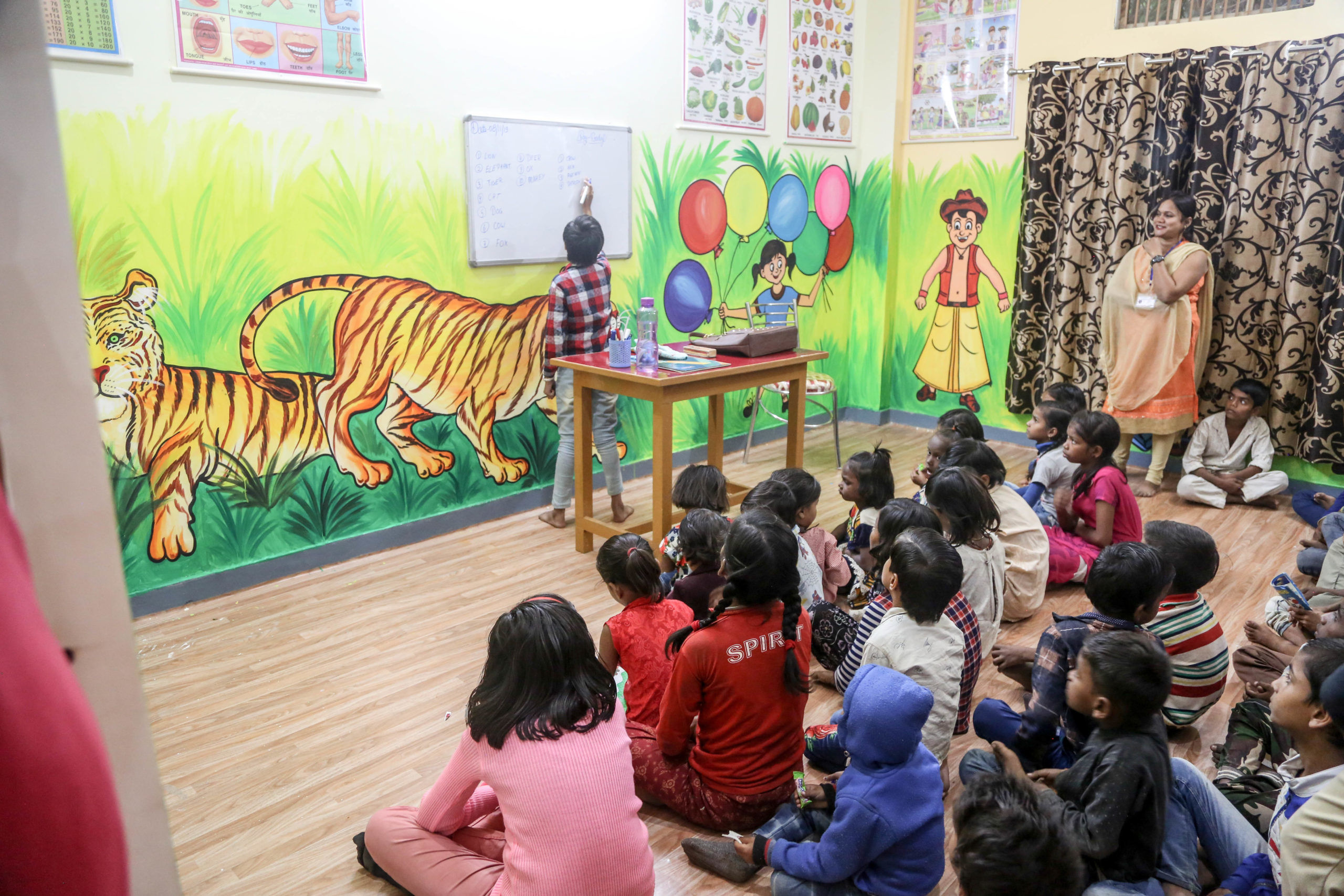 With the opening of our new building with its excellent infrastructure, the education officer of the government of Sonbhadra asked in October 2019 whether we could offer a school program for children from poor regions.
What are the concrete advantages of running a school in our Center versus a public primary school?
The level of public schools in Uttar Pradesh is not considered to be very high. The school buildings are very simple with poor sanitation. There are no ways to work with computers, no musical instruments, no school desks or chairs. The teachers are not always highly motivated.
Our approach is to develop the children's personality as well as the teaching subjects. One focus is on teaching the children the English language. In most schools, only words are learned by heart and children are taught a few sentences. The experience in English language is very poor in rural areas in India.
We offer two pre-school classes and primary school classes 1 to 5. A license is required to operate the school. The start was scheduled for April 2020, but had to be postponed until July due to Corona. The school is free for children from poor families and has the quality of a private school, which is, however, very expensive.
With schooling for up to 200 students at the same time, the level but also the complexity of our work increases significantly. At the same time, this program completes our strategy and offers all educational measures "under one roof". This means that many children can go straight to school after school or are well equipped for secondary schools.
In September 2020 we received the license to operate an inclusion school, a special school where children with and without disabilities learn together. This is the first license granted to an organization in the Sonbhadra district. We are very proud of this. 
"Live as if you were to die tomorrow and learn as if you were to live forever".
Education: Winter schools in Nepal
Without funding from NGOs from abroad there would be no schools in Upper Dolpo. School lessons in winter have not existed for a long time and are a matter close to Rinpoche Dolpo Tulku's heart. We have complied with this request and have been funding the winter school in Saldang since 2016 and the winter operation in Nyisal since 2019, for a total of 100 children.
Why are we doing this and what impact does it have on children and adults in the mountainous villages?
The HUMAN Foundation completely finances the operation of the winter school from November to the end of April: the teachers and kitchen staff, the daily meal as well as some materials for learning and makes a contribution to maintaining the building if necessary.

"I never had the opportunity to go to school. That is precisely why it is so important to me that children today have good opportunities for education in the villages in Upper Dolpo."
Education: Primary/Secondary School Nigeria
With the renovation of the school complex of the Amuro / Mgbom Primary and Secondary School, we want to enable the children to attend school in a proper way. This is currently not possible due to the current infrastructure: too large classrooms with several classes, too much heat due to poor insulation and no ventilation, several buildings are currently unusable because they are badly damaged.
What are the long-term benefits for the students?
It is said that knowledge is power and education is the key to success. With a better education, the children are ready to compete in the labor market in Nigeria and can find employment anywhere in the world.

"It is my dream to help make the school a befitting and conducive environment for learning. I want to see the laboratory and library block to be completed within my tenure and to develop students that can favorably compete with others academically".
"ChildLine Service" in India means in most cases a clearly defined program of the ChildLine India Foundation , which reports to the Ministry of Child and Women's Development. For each district and at special "hot spots", a license is granted to an organization that is allowed to perform this service. Our partner organization Creation India Society has received the license for the Sonbhadra district with its 2.5 million inhabitants and is allowed to execute the "ChildLine service" in accordance with the requirements. What does that mean?
ChildLine services offer a 24/7 hotline
with rehabilitation activities and advice for the following emergency situations:
missing children.
"found infants".
neglected children.
Several qualified employees will work for this program.
"I am very happy that the HUMAN Foundation and the Creation India Society in Sonbhadra will be running the ChildLine Service for endangered children."
Skill Development in India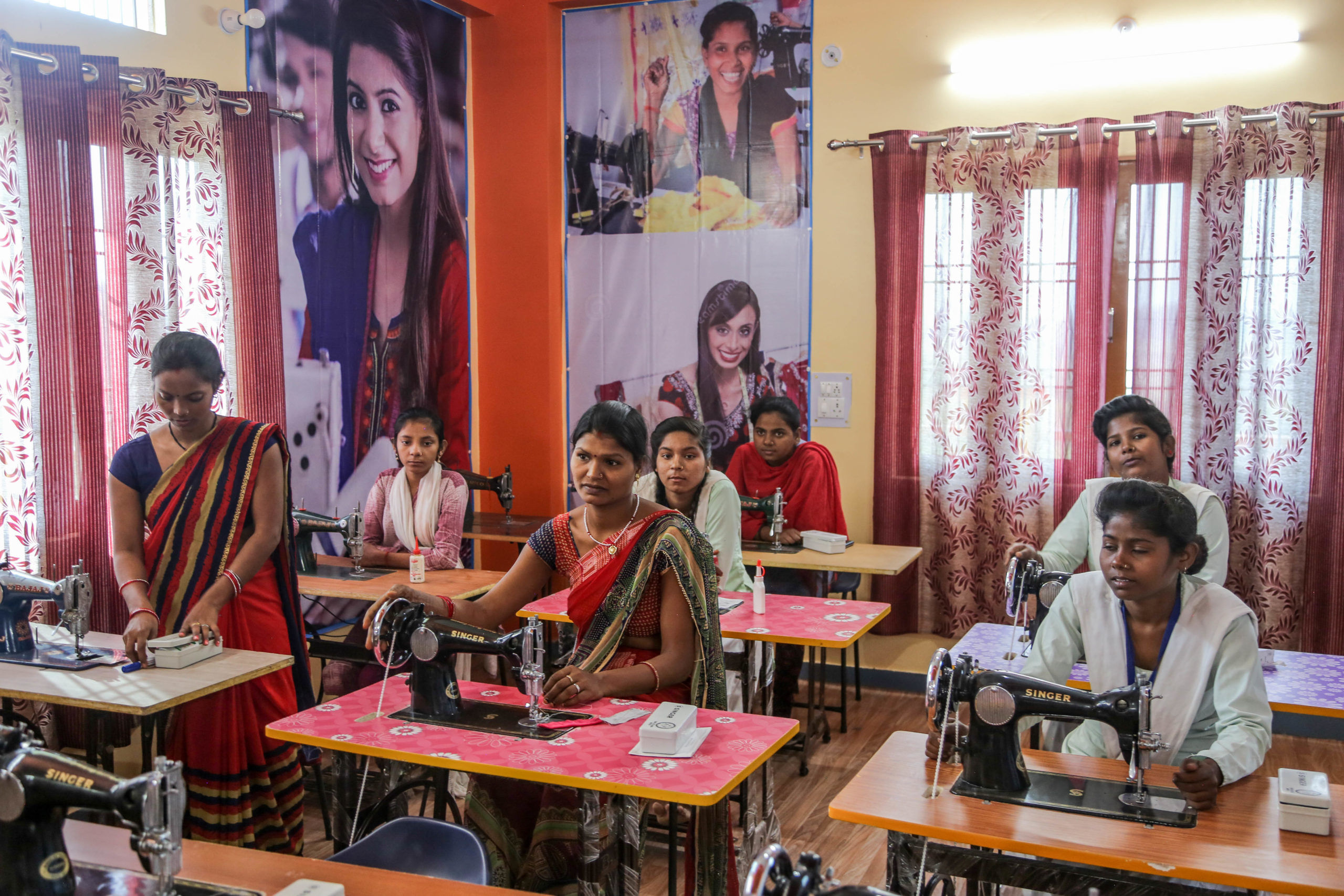 Vocational Training ("Skill Program") is one of the very big initiatives in India, especially for rural areas. In order to be able to offer training, you need licenses from the Indian government or the associated organizations such as "National Skill Development Corporation (NSDC)" and "National Small Industry Corporation (NISC)". We have the licenses for Sonbhadra. This enables us to offer education and training packages from a single source , which makes us "the" attractive social facility in the entire region. What does that mean in detail?
In our Keswha Child Welfare Center we have classrooms and laboratories for more than 100 trainees
. We have a license to train 720 apprentices per year. We start with the following training modules:
Beauty: We provide classrooms and a 'lab' for up to 50 people in parallel for beauty training.
Tailoring: We have a classroom and 'lab' for up to 50 people working in fashion and tailoring.
Computer: We provide a room with 10 computers. We have the license for various training modules.
"I am very happy about the trustful cooperation with the HUMAN Foundation and the Creation India Society in Sonbhadra with their first-class infrastructure in the Keshwa Child Welfare Center."
Disability Welfare in India
Care and support for disabled people is in close cooperation with the chief disability officer of the Sonbhadra district, from whom we also received the license for our work. People with disabilities in India are often dependent on themselves . The causes of disabilities are mostly poverty and poor health care. Many disabilities would be avoidable if expectant mothers and their infants received better care and nutrition. Education and advice are very important elements.
We conduct analyzes and surveys in the villages and organize camps and workshops either in our center or in the villages. Disabled people in India often live excluded from society.
"I am looking forward to a long-term collaboration because the Creation India Society, supported by the Human Foundation, is doing an excellent job in caring for disabled people here in Sonbhadra."
Women Empowerment in India
Women Empowerment is our offer for disadvantaged women.
There is this need because of the dominance of men and discrimination against women. Women are targeted by various types of violence and discriminatory practices. This is still a challenge in the area in which we operate.
The drivers of our actions are to increase the self-esteem of women, their right to make their own decisions, the possibility to regulate their own lives and to achieve equality.
We are committed to advising women on questions of family planning, equality, the possibility of finding work and thus reducing unpaid work . Empowerment of women is about granting them full human rights. This is what we offer women in the KCWC:
"We will master the major challenges in close cooperation with the HUMAN Foundation. The development of women is particularly important to me."
Outreach Program in India
The "Outreach Program" is a social program for the rural population.
In Sonbhadra, a large number of residents in 1,441 villages live in poverty. These people have limited or no education and are not trained to ask for help. Over the years, we will cooperate with the respective village mayor (Gram Panchayat) We will to investigate the situation in the families in all the villages and then determine how people can best be supported in certain areas of their daily life.
We support with social, legal and medical problems. We advise drug-addicted children and adolescents, want to win parents over, send their children to school, enable them to get an education, and advise them on family planning.
"We have to deal with alcohol and cheap drugs in all villages. We try to get into conversation with the young people in order to dissuade them from any kind of drugs."